FKN bread was created in a small home during a crazy time. Dave and his wife, Bree, were experimenting with making different types of bread that ended up being quite delicious. One loaf was sold, the word was out, and FKN Bread became a local favorite.
Dave was born and raised in San Juan Capistrano. He was actually raised in the very same house that FKN Bread was created. He has always had a passion for cooking and creating culinary masterpieces. Dave grew up playing hockey and fishing locally. After graduating from Dana Hills High School he attended college at National University and earned a business degree. Dave then moved home to be closer to his family. Dave met Bree in 2013 while working together at a restaurant in Laguna Beach. Dave is currently a chef at Driftwood Kitchen in Laguna Beach. Bree was born and raised in St. Augustine, Florida. She attended college at Florida State University where she earned a master's degree in social work. Bree moved to California on a whim in 2013 and started working at the same restaurant as Dave. Bree also works at Beta Foster Care and is a foster care social worker. Dave and Bree fell in love and the rest is history. The name FKN Bread comes from the initials of Dave and Bree's boys; Finn, Kane, and Nash. Finn is 3 years old and he is feisty and outgoing. He loves nerf guns, monster trucks, and playing outside. Nash is 2 and a fiery red head. He likes fire trucks and building or fixing things. Kane is 5 months old and is an amazing baby. He likes to play in his jumper and watch his daddy bake. Dave and Bree also home two boys that are in America studying and currently attend middle school.
Dave would like to use his history, expertise, and experience to bring a café style breakfast and lunch spot to San Juan Capistrano incorporating FKN bread and local produce. Stay tuned, friends.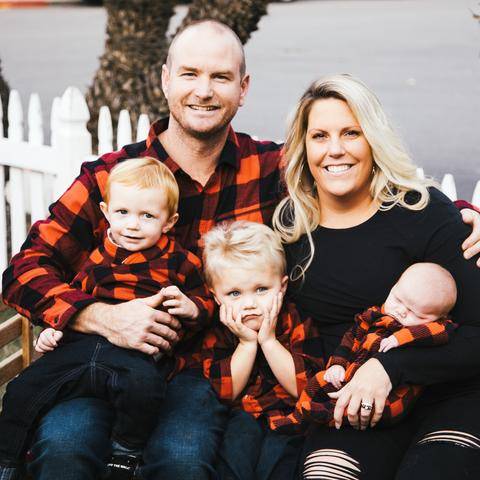 See what people are saying!!
"Oh my god. Everything about that Jalapeño Cheddar Bread is DIVINE. I mean, I knew it was going to be good but it exceeded my expectations. My husband said and I quote holy sh**t that bread is amazing....I don't think I'll ever buy bread from the grocery store again."
- Milly
"I bought my first loaf of sourdough bread (Jalapeño Cheddar) from FKN bread and it was to die for! I brought it home to my roommates, toasted it, spread cream cheese on top & the whole thing was inhaled in 2.3 seconds...Very high quality and honestly the best sourdough I've ever had! Thank you so much FKN bread!!"
- Tiffany
"Fkn bread get 5 stars from this family! The everything sourdough blew us away with the amazing flavor. We'll definitely make many trips to Dana Point from San Diego to get this bread. The family is beautiful and their story is inspirational."
- Ann Marie
"To say that I'm in love with this bead is an understatement. I've tasted every flavor and each one is better then the next. It's impossible to pick a favorite. My entire family is obsessed. Grilled cheese, toast and jam, sandwiches, French toast, you name it. This is a new staple in our household and we couldn't be happier. Thanks for making such an amazing product and we are now forever FKN bread supporters! ♥️♥️♥️"
- Courtney